Hi folks! We hope everyone is doing well and staying healthy. This was certainly not the fall semester we were anticipating. After just a few days on campus to kick off the year, Hurricane Ida made her landfall in Southeast Louisiana. It has been a stressful few weeks for everyone, but things are on the upswing. Tulane went toe to toe with Oklahoma, power has returned to New Orleans, and President Fitts announced that we will be able to resume in-person classes on September 27th- two weeks earlier than anticipated! You can read his full message here.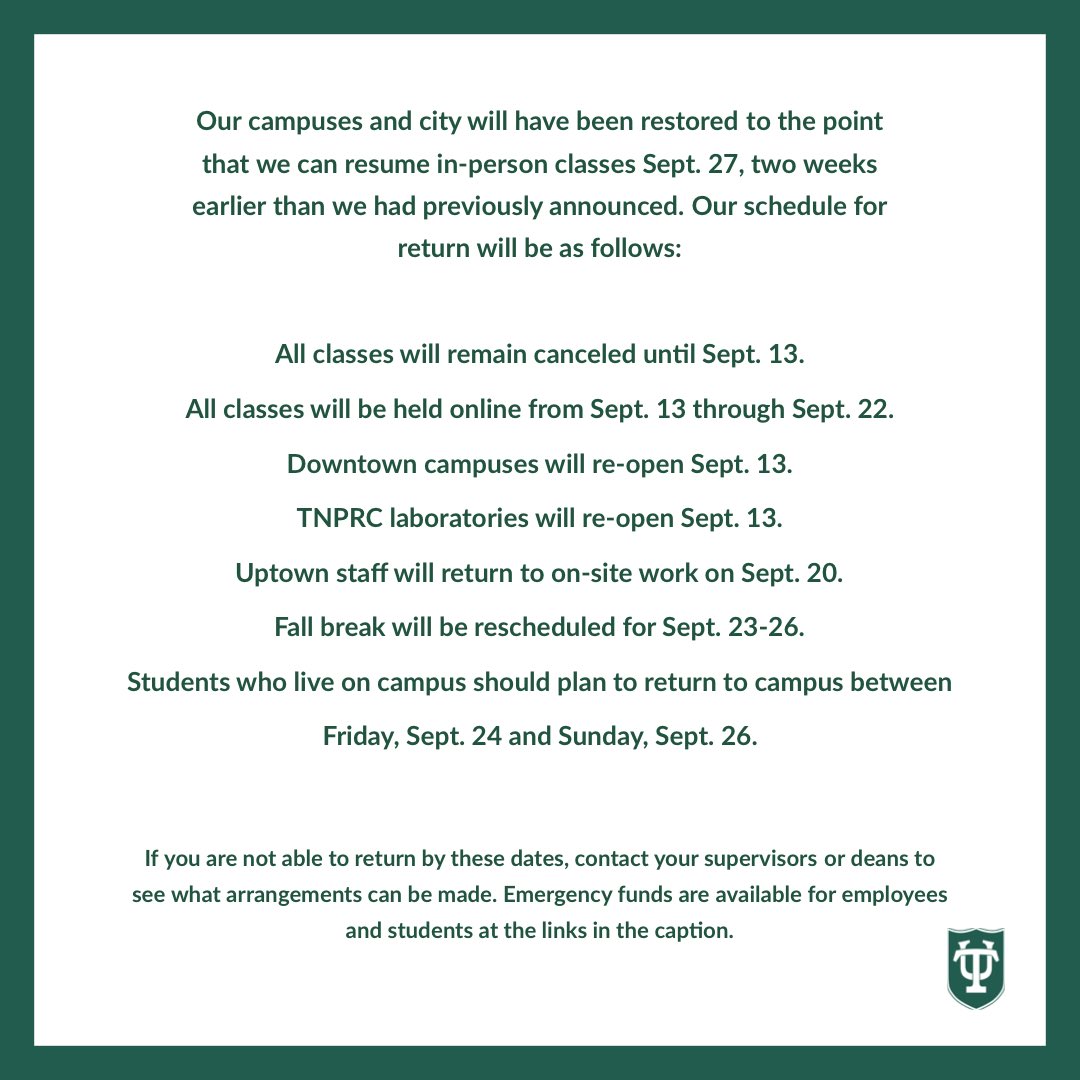 When it comes to admission events, we are ready to host you- soon! We will begin hosting information sessions and Q&A sessions on September 17th. Tours will resume once our students return to campus. As always, proof of vaccination or a negative COVID test are required to visit our campus in-person. Our staff is also beginning our travel season, where we visit your towns and high schools. We are excited to meet many of you in real life! Remember, we still have tons of virtual offerings if you are unable to travel or aren't quite ready for face-to-face interaction. Physically visiting campus is never a requirement to be admitted!
I personally think that Tulane handled Ida incredibly well. Ida intensified from "Invest 99L" to a Category 4 hurricane in a matter of hours, and defied most of the projections that weather experts were using. Tulane's plans evolved at a similar speed. Some students chose to evacuate when Orleans Parish instituted an optional evacuation, while others sheltered in place on campus. After Ida left New Orleans without power, Tulane shuttled the students who remained on campus to Houston, where they could fly home or stay in hotels if they could not get home. The Admission staff also set up a base in Houston, so our staff could return to virtual work. I've heard rumors that they demolished 45 plates of sushi at one of those conveyor belt places, but I need some photo evidence.
Of course, the sun always returns after a storm, and some silver linings were found. While power was out in all of Orleans Parish, the levee system did its job. Flooding was minimal, and New Orleans fared well. Unfortunately, many communities to our west were not as lucky. Please continue to send thoughts, prayers, and any support to our neighbors in parishes like Lafourche, Terrebonne, St. John the Baptist, Jefferson, and more. They will need our help for the foreseeable future.
While many Tulanians remained in a holding period, Entergy was hard at work restoring power to New Orleans. Nobody really knew how long this process would take, leading to the uncertainty about our return. Entergy originally said it could take weeks! I loved seeing the pictures from The Commons hosting the line workers for a meal.
Thanks to the hard work of countless people out there, we are getting ready to move forward. It is impossible to say "thank you" enough times to the Tulane staff and contractors who worked around the clock (and continue to) to take care of our campus and students. We are very grateful to be able to return to campus soon, and for the spirit of New Orleans and Tulane! See y'all soon!